iPad Snags 75% of Tablet Market in 4Q 2010 as Android Gains Momentum [Updated]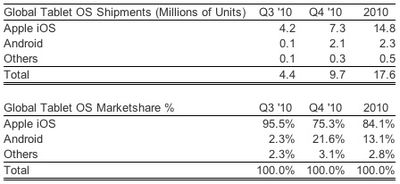 With the nascent worldwide tablet market still in a state of flux as Apple's game-changing iPad is starting to see competition from Android devices now making their way to the market, observers have been working to develop a picture of how things are shaking out in the fast-moving market. Research firm Strategy Analytics today
announced
the result of its survey of market data for the fourth quarter of 2010, unsurprisingly showing Android rapidly gaining a foothold in a market still dominated by the iPad.
According to the latest research from Strategy Analytics, global tablet shipments reached 10 million units in the fourth quarter of 2010. Apple maintained first position, while Android soared and captured a record 22 percent global share.
Peter King, Director at Strategy Analytics, said, "Global tablet shipments grew 120 percent sequentially to reach 9.7 million units in Q4 2010. Apple maintained first position. Apple recorded an impressive 75 percent global marketshare during the fourth quarter, but it has slipped from a peak of 95 percent in Q3 2010 due to rising competition from Android."
While few had expected Apple to maintain its virtual monopoly on the market and its 75% share still registers as a dominating position akin to that seen with the iPod in the MP3 player market, Android's impressive quarter-to-quarter growth even before the release of the tablet-optimized "Honeycomb" version demonstrates the wide acceptance of Google's mobile platform by device manufacturers and consumers.
With an array of competitors, including Honeycomb-based devices such as the Motorola Xoom and Research in Motion's BlackBerry PlayBook, coming to market over the next few months and Apple preparing to roll out its next-generation iPad, competition in the rapidly-growing tablet market should continue to intensify.
Update: It is important to note that these figures reflect shipments into the sales channels, as is typically reported by manufacturers, not necessarily sales to consumers. And as reported by The Wall Street Journal, many of the Samsung Galaxy Tab units that make up the lion's share of Android's numbers for the quarter may not have made it into consumers' hands.
In early December, Samsung announced it had sold 1 million, declaring that sales were going "faster than expected." Then, in early January, Samsung announced sales of 2 million.
But during the company's quarterly earnings call on Friday, a Samsung executive revealed those figures don't represent actual sales to consumers. Instead, they are the number of Galaxy Tab devices that Samsung has shipped to wireless companies and retailers around the world since product's formal introduction in late September.
Pressed by an analyst at an investment bank, the Samsung executive, Lee Young-hee, acknowledged that sales to consumers were "quite small," though she didn't give a specific number.
Update 2: The Wall Street Journal has corrected its story to indicate that Lee Young-hee had actually said that Galaxy Tab sales were "quite smooth", not "quite small". The error arose from an incorrect transcription of Samsung's conference call.