CES 2011: Verizon Makes No Mention of iPhone, iPad Competitors Take Shape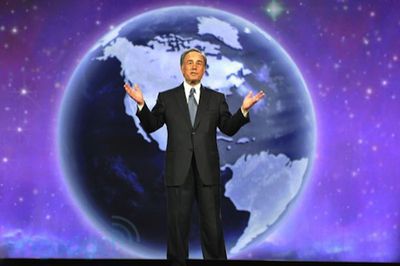 Verizon CEO Ivan Seidenberg on-stage at CES 2011 (Source: Engadget)
In what should not be regarded as a surprise, Verizon CEO Ivan Seidenberg and other presenters during his keynote address at CES 2011 this morning made no mention of the possibility of the iPhone coming to Verizon. Seidenberg's role as the primary keynote speaker for the event had
sparked speculation
that the forum could be used to introduce a Verizon iPhone, although most observers have long thought that such an introduction would take place at an Apple-controlled event headed by Steve Jobs.
Seidenberg's presentation instead focused on Verizon's LTE and FiOS networks from the perspective of an integrated data access environment, and included the appearance of executives from Time Warner, Motorola, and Google to demonstrate such concepts as "TV Everywhere" that would allow customers to view their video content on a variety of devices over a number of different connections, as well as next-generation mobile devices and software that can take advantage of Verizon's LTE network speeds.
A CDMA version of the iPhone compatible with Verizon's network is still widely expected to make its debut early this year, possibly within the next few weeks, but we have yet to hear word of any Apple media event that would presumably accompany the introduction.
On a separate note, with Apple's iPad experiencing great success in 2010, tablets are unsurprisingly a major focus of this year's CES. Among the developments on the tablet front:
- Android 3.0 / Motorola Xoom: Google has released an intro video for its upcoming Android 3.0 software, "Honeycomb", an updated version of the company's smartphone operating system now said to be optimized for tablets. Meanwhile, Motorola has followed up on its "Tablet Evolution" teaser video with the introduction of the Motorola Xoom. A brief hands-on, however, reveals that the Xoom is still to be in the early stages of development.
While this sleek little device is still running a very early build of Honeycomb, we were able to sneak some peeks at the stuff Google and Motorola don't actually want you to see just yet. The device was looping demo videos of the Honeycomb UI, but a little investigation on our part revealed a bare bones homescreen.
Xoom is expected to launch Q1 2011.
- RIM BlackBerry Playbook: The BlackBerry PlayBook has been highly touted as Research in Motion's answer to the Apple iPad, and early impressions have been very positive.
The BlackBerry PlayBook is surprisingly polished and responsive at this stage, even though RIM says it has a lot of work to still left to do.
With the initial PlayBook model set to launch early this year, a 4G (WiMAX) PlayBook has also been announced for a summer debut on Sprint.