Verizon to Offer iPhone With $30 Unlimited Data Plan [Updated]
The Wall Street Journal reports that Verizon will in fact be offering an unlimited data plan for the iPhone when the device goes on sale next month, pricing the offering at $30 per month on top of customers' calling plans.
It's official: Verizon is going to offer iPhone buyers a $30 unlimited data plan. The carrier's heir apparent and chief operating officer, Lowell McAdam, told us the news ahead of the companys meeting with investors.
"I'm not going to shoot myself in the foot," he said. Not offering an unlimited plan would put up a barrier for customers who might otherwise switch from AT&T, he said.
The data plan offering may not be unique to the iPhone, however, as Engadget reports that the company is doing away with its low-end 150 MB data plan priced at $15 per month for 3G smartphone users, leaving the $29.99 unlimited plan as the only option. Verizon had just introduced the low-end plan in late October.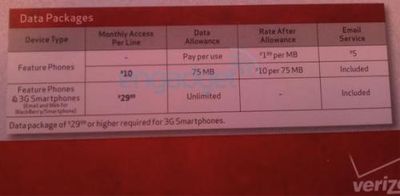 AT&T had offered a $30 unlimited data plan for iPhone customers, but
switched to tiered pricing
with the iPhone 4 announcement in June 2010, moving to a 200 MB plan priced at $15 per month and a 2 GB plan at $25 per month with no unlimited option available. Existing customers on the unlimited plan at the time of transition were grandfathered in and can continue on that plan, but new customers, as well as existing customers who have already switched to limited plans, can no longer sign up for unlimited data plans on AT&T.
Update: The Wall Street Journal has updated its article to note that McAdam later revealed that the $30 unlimited data plan would be a temporary offering, with the carrier set to shift back to tiered pricing "in the not too distant future".