Next-Generation iPad With 1-Megapixel Rear Camera and Case Cover Proximity Sensor?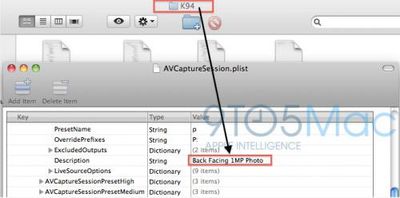 9 to 5 Mac reports
that it has discovered evidence within the latest iOS SDK revealing that the next-generation iPad will in fact offer both front- and rear-facing cameras. Unfortunately for camera fans, however, the rear-facing camera's resolution will apparently check in at only about 1-megapixel, significantly lower than the iPhone 4's 5-megapixel camera and more in line with the camera found on the iPod touch. The iPad's front-facing camera will apparently be of the lower VGA resolution found on Apple's other iOS devices offering FaceTime capabilities.
Many observers had expected that the second-generation iPad would offer a rear-facing camera with a resolution higher than that found in the iPod touch, with one analyst claiming last October that OmniVision Technologies had been awarded a contract to supply 5-megapixel image sensors for a rear-facing camera in the iPad.

On a somewhat related note, Brazilian site
Blog do iPhone
earlier this week
reported
(
via MacStories
) that evidence has also surfaced indicating that the next-generation iPad may offer a proximity sensor that would enable the iPad to sense when the cover on a case has been opened or closed and correspondingly automatically lock or unlock the device.