FaceTime, Camera and PhotoBooth Icons Confirm Camera in iPad 2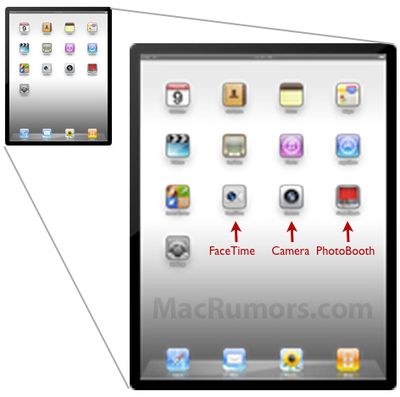 Apple's developer release of
iOS 4.3 Beta 2
has provided more visual evidence confirming that the next iPad will carry a front facing camera as well as the Apple Camera App and Photo Booth App. The above image (homeScreenOverlayFaceTime~ipad.png) was found in the latest beta and is used by iOS to show a preview of your wallpaper selection. The current iPad uses the following image, showing only the standard iOS icons for 4.2:

In iOS 4.3 Beta 2, however, Apple has already updated this image to reflect the three new app icons that must come with a standard installation. This includes FaceTime, Camera and Photo Booth as pictured at the top.
FaceTime will allow iPad 2 owners to video conference with iPhone, iPod Touch and Mac owners. The standard Camera app will allow you to take photographs. We still can't say for sure if there will be a back camera, as the camera app could possibly be used only for the front camera. Finally, the Photo Booth icon confirms that Apple is including their Mac OS X Photo Booth app which allows users to take fun photos and apply various filters to them. Filters also found in the beta include Thermal Camera, Mirror, X-Ray, Kaleidoscope, Light Tunnel, Squeeze, Twirl and Stretch.
Apple is expected to release the new iPad in the first quarter of this year.