Apple to Start Allowing Adult Content on iPad [Updated]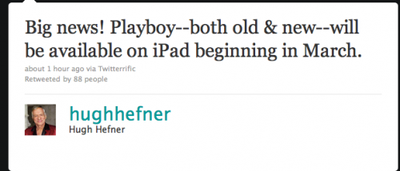 TechTrackr noted
that
Hugh Hefner
revealed on Twitter that full
uncensored
issues of Playboy will become available on the iPad in March.
While Playboy has had an official App Store app, the app has been content restricted and contains no nude images. There are no further details on the iPad version of the magazine.
We suspect the magazine delivery may be related to Apple's recent plans to open up subscription billing for magazine and newspaper content which has been rumored to debut in the coming weeks. News Corp's upcoming The Daily has been repeatedly cited as the first to take advantage of the new subscription model.
Update: According to Forbes, a Playboy spokeswoman has clarified that the uncensored version of the magazine will be offered through a web-based subscription service accessible through the iPad. By offering a web-based interface rather than an App Store application, Playboy will skirt around Apple's previously-stated objections to adult content in the App Store.
We are releasing a web-based subscription service with Bondi Digital Publishing that will give users access to every issue of Playboy both past and present. The service will be iPad compatible and will utilize iPad functions.
We also have plans to release a non-nude version of a Playboy-branded iPad app in the coming months that adheres to all of Apple's policies and guidelines.