Apple Launches '10 Billion App Countdown' Contest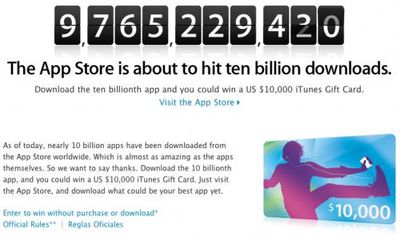 Apple today launched a new
10 Billion App Countdown
promotion to celebrate the upcoming milestone, awarding the user who downloads the 10 billionth app a $10,000 iTunes gift card.
As of today, nearly 10 billion apps have been downloaded from the App Store worldwide. Which is almost as amazing as the apps themselves. So we want to say thanks. Download the 10 billionth app, and you could win a US $10,000 iTunes Gift Card. Just visit the App Store, and download what could be your best app yet.
As noted in the official rules for the contest, users can make up to 25 contest entries per day by either downloading an app from the App Store or by filling out an alternate entry form.
Apple conducted a nearly identical contest just eleven months ago to celebrate 10 billion songs downloaded from the iTunes Store, illustrating just how quickly the App Store, which only launched two and a half years ago, has nearly caught up with the iTunes music store in download volume.