Survey Claims 26% of AT&T iPhone Customers Planning to Switch to Verizon
Market research firm ChangeWave Research today announced the results of new survey examining the impact of the Verizon iPhone on customer carrier preferences. While the survey of professional and early-adopter consumers was conducted in late December, ahead of the official Verizon announcement, the general media consensus at the time had been that a Verizon announcement was imminent.
Among the findings of the survey was a surge in the percentage of AT&T subscribers planning to change carrier over the subsequent 90 days, rising to 15% from 10% just three months earlier.
Importantly, when we compared the churn rates for the top wireless providers, we found major differences.
Only 4% of Verizon's customers plan to switch in the next 90 days. In comparison, 10% of Sprint/Nextel's customers say they plan to switch, as do 15% of both T-Mobile's and AT&T's.
Related to that spike was a result showing that 16% of surveyed AT&T customers were planning to switch to Verizon if it began offering the iPhone, with an additional 23% of AT&T customers registering as unsure whether they will switch carriers.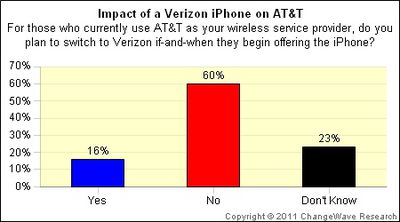 That metric was even higher among AT&T's iPhone customers, with 26% of them saying they would leave AT&T for a Verizon iPhone. While most AT&T iPhone customers are currently tied into long-term contracts, many of them are apparently ready to jump ship anyway, with 41% of those planning to switch saying they will do so within the first three months of Verizon iPhone availability and an additional 31% doing so within a year.
ChangeWave has also continued to track reports of dropped calls on the major carriers, an area where AT&T has struggled mightily. The most recent survey did in fact find some good news for AT&T in this area, with its dropped call rate falling to 4.7% in December from 6% as measured in September. But despite clear improvement presumably related to network improvements, AT&T's call-drop rate remains far above that of Verizon's 1.7% figure.