Verizon Media Event Scheduled for January 11th: iPhone Announcement? [Updatedx2]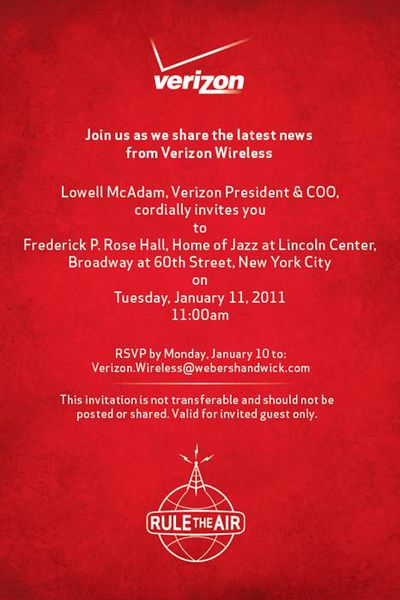 The Loop reports
that Verizon has just issued invitations for a media event set to be held in New York City next Tuesday, January 11th. The topic of the event is unknown, but speculation of course centers around a possible introduction of the iPhone on the carrier, although most observers have been expecting that such an introduction would be made at an Apple media event given the company's penchant for secrecy.
Verizon Wireless on Friday sent an invitation to select press to attend a special event on January 11, 2011.
The Verizon event will be held in New York and while it doesn't mention anything about Apple this could be the Verizon iPhone. Typically, Apple's special events are held on the company's campus in Cupertino, Calif.
The January 11th date for the Verizon media event matches a report from yesterday about a Verizon iPhone introduction, although that report indicated that it would be an Apple event.
A separate report today claims that evidence is pointing to a February 3rd launch date for a major new Apple product, presumed to be the Verizon iPhone. Given Apple's history of product releases, an official introduction would be expected in the very near future in order to meet that launch date.
Update: Sources have indicated to All Things Digital that the event is in fact the Verizon iPhone introduction.
No details on its focus, but sources close to the company tell me this will indeed prove to be the long-rumored Verizon iPhone announcement. Question now is will Apple CEO Steve Jobs join Verizon president and COO Lowell McAdam onstage to make it.
Update 2: Gizmodo has been conspicuously not invited to the event, offering further proof that this is an Apple-backed event.