CES 2011: Boxee for iPad Previewed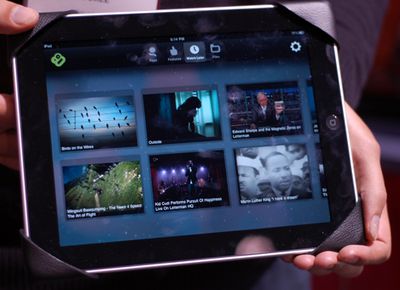 Boxee
, the start-up company that develops media center software for multiple platforms, provided a sneak peek at its upcoming iPad app at the 2011 International Consumer Electronics Show this week. The iPad app will allow users to view videos on the go and send content to a Boxee device. Also, it allows users to stream a video directly from their Mac or PC in a variety of formats including those that aren't natively supported on the iPad. It accomplishes this through Boxee media server software running on the computer that automatically transcodes video to the iPad.
Boxee's CEO and co-founder, Avner Ronen, describes the app in the company's blog:
[The Boxee iPad app] enables you to access videos from your Watch Later list as well as from your Feed (stuff shared from Facebook / Twitter), and staying true to Boxee roots also enables you to stream videos directly to the iPad from your PC/Mac (without requiring you to sync).
Cult of Mac recorded a demo of an early version of the app in action:
Boxee's first foray into the App Store was in early 2009 when the company
released
a remote control app [
App Store
] for the iPhone and iPod touch that can control the Boxee application on a computer via Wi-Fi.
A release date for the iPad app has not yet been announced though the company hopes to release it by the spring. The App will be free, and Boxee reports on its blog that the company will be exploring an iPhone and iPod touch version in the future.