Another iPad 2 Model at CES 2011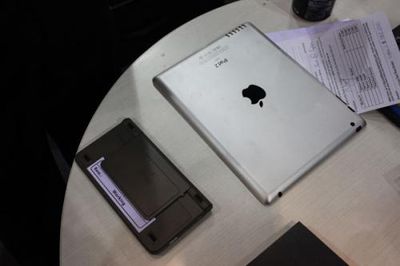 iLounge spotted
another physical iPad 2 model being used to demonstrate a docking system at CES 2011.
The shell, which has been marked by developer Gopod Mobile with iPad 2 and 128GB logos that would not appear on the actual device, is being shown paired with an iPad 2-specific foldable rechargeable battery pack developed by the company, and depicts the revised devices redesigned curves, ports, and cameras; it is said by Gopod to represent the actual appearance of the as-yet-unreleased thinner and slightly smaller iPad.
The iPad 2 model is complete with front-sided camera hole, enlarged speaker grill and a backside camera. It also follows the tapered edges with flat-back that has been depicted in numerous case designs.
Apple is expected to launch the iPad 2 in the first quarter of 2011 with some expecting an announcement within the next few weeks.