Epic Games Launches 'Infinity Blade' - an Unreal-Based Game for iPhone and iPad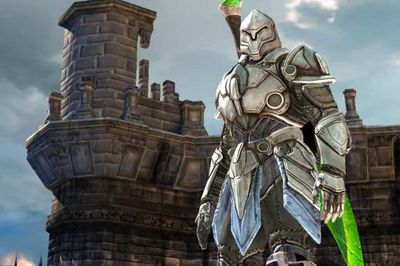 Epic Games
has released their first full iOS game tonight.
Infinity Blade
is a gesture-based fighting game that is based on the company's Unreal Engine 3. Epic showed and released a
free technology demo
of the engine at
Apple's 2010 Fall Media event
, and has since taken the time to flesh it out into a full game.
TouchArcade reviews the new release and describes it as a "must have" but warns not to expect an open world RPG:
If you were expecting Infinity Blade to be some massive open-world RPG and any number of other things I've seen people on our forums suggesting, you're going to be sorely disappointed. If all you were looking for is a fighting game with a really cool input method that fits perfectly with iOS devices, you're going to be in for a treat. The RPG elements are very light, but the fighting is solid, and the graphics are the best we've seen so far on the App Store.
Infinity Blade
is a universal app optimized for both iPhone/iPod touch and iPad and is available for $5.99