Ping Lands Exclusive Premiere of New Michael Jackson Song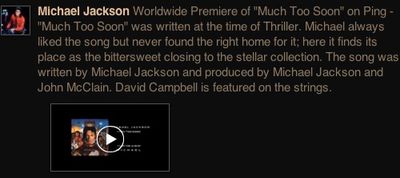 As
noted by Mashable
, Apple's "Ping" music-focused social networking service within iTunes has scored its first major exclusive, premiering a new posthumously-released track from Michael Jackson. The track, "Much Too Soon", is being streamed exclusively through Jackson's
Ping profile page
for the next week.
The entry and press release note that "Much Too Soon" was recorded at the time of Jackson's blockbuster "Thriller" album (released in 1982) but was never included on any of his albums.
The song "Much Too Soon" was written at the time of Thriller. Michael always liked the song and would pull it back out of the vaults for each subsequent album project but never found the right home for it; on the new album it finds its place as the bittersweet closing to the stellar collection. The song was written by Michael Jackson and produced by Michael Jackson and John McClain. David Campbell is featured on the strings.
Ping launched in iTunes 10 in early September, but has yet to catch on with many users. Apple has, however, continued to push forward with new features for the service, including Twitter integration and iPad access being added in just the past few weeks.