'SlingPlayer Mobile for iPad' Now Available in App Store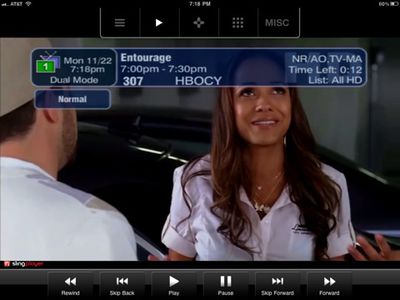 Earlier this year, we
reported
that Sling Media was "hard at work" on an iPad version of its
SlingPlayer Mobile
application, which offers iOS device compatibility with the company's service designed to "sling" television content from a set-top box connected to a user's television to computers and mobile devices.
Sling Media today announced that SlingPlayer Mobile for iPad [App Store, $29.99] is now available in the App Store, offering higher-resolution video than its iPhone counterpart.
Available for purchase on the iTunes App Store, SlingPlayer Mobile software for iPad lets Slingbox owners extend their living room TV experience to their iPad and takes advantage of the iPad's high-resolution, 9.7-inch LED-backlit display for great video quality. The revamped program guide uses the iPad's intuitive native interface, and a recent channels feature puts a viewer's recent channels at his fingertips.
Compatible with Slingbox SOLO and PRO-HD set-top boxes, the software allows users to change channels, control their DVR, and watch shows over Wi-Fi and 3G.
The original SlingPlayer Mobile application for iPhone generated significant attention after it was approved in May 2009 without support for streaming over 3G, a limitation imposed by AT&T over concerns regarding the strain 3G streaming functionality could place on its network. AT&T eventually relented, and a 3G-capable version of SlingPlayer Mobile appeared in the App Store in February of this year.