Sling Media's SlingPlayer Now Available in App Store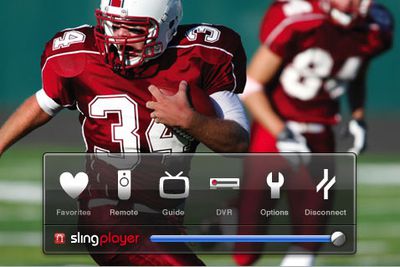 Given all the
drama
from the circumstances surrounding the
SlingPlayer Mobile
launch, we felt it newsworthy to post about the availability of Sling Media's app.
SlingPlayer Mobile is now available [iTunes link] in the App Store. The $29.99 application allows you to watch and control your home TV and DVR from your iPhone and iPod touch. This is accomplished though the use of one of SlingMedia's media devices. Unfortunately, due to concerns about network congestion, the application will only stream video over Wi-Fi connections and does not support 3G or EDGE.
Macenstein provides an extensive review from the beta version:
Even without 3G support, Slingbox's SlingPlayer Mobile app is truly a must have app for Slingbox owners, and one of the few $29.99 apps I would have no problem paying for. However, AT&T's decision to single out the iPhone version of SlingPlayer Mobile and ban it from its network certainly give one reason to pause on what should have been a clear cut decision.
App Store Link: SlingPlayer Mobile, $29.99