Sling Media 'Hard at Work' on SlingPlayer for iPad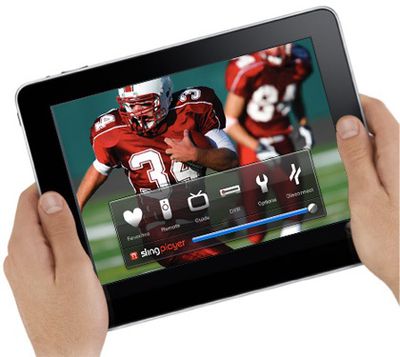 Zatz Not Funny! reports
that
Sling Media
has plans to launch higher-resolution television streaming services for the iPad, although the company has acknowledged that it will not be prepared to roll out the new application and streaming services in time for the device's launch later this week. According to Sling Media:
When it makes a noticeable difference in quality, we will definitely provide higher resolution streaming. The iPad is a good example of a device where we are hard at work on this, but unfortunately it won't be there at the April launch.
Sling Media offers a popular "placeshifting" service that allows users to "sling" television content from a box connected to their own television to computers and mobile devices.
The company has received a significant amount of attention for its efforts to bring its SlingPlayer Mobile application to the iPhone. The application was approved last May, but was limited at the time to streaming via Wi-Fi due to objections from AT&T regarding 3G streaming. AT&T finally relented, and last month a 3G-enabled version of the application appeared in the App Store.
Even that change was not without controversy, however, as Sling Media denied early comments from AT&T Mobility CEO Ralph de la Vega that the two companies had worked together to revise the application to optimize the streaming protocols for AT&T's network. Sling maintains that it made no modifications to the 3G streaming capabilities of the application between AT&T's denial last year and its recent change of heart.