'The Daily' News Service for iPad Set for December Media Event Launch?
Yesterday, we noted that Apple and News Corp appear to be in the final stages of preparing a new tablet-focused news service known as The Daily that would offer high-quality video content and interactivity for $0.99 per week.
Daring Fireball's John Gruber has weighed in on the developments, reporting that he has heard that The Daily will be launched at a special media event next month hosted by Apple CEO Steve Jobs and News Corp CEO Rupert Murdoch. Gruber notes that he is hearing rumors of a December 9th event, although it could be pushed back to the following week.
My understanding is that this initiative is going to launch with a press event, with Murdoch (and perhaps other newspaper and magazine executives) joining Steve Jobs on stage. This is not going to be a quiet launch, to say the least. But "this month" is effectively already over, considering that Thanksgiving is Thursday, so it won't happen until next month at the earliest.
(The date I've heard is December 9, but that's a Thursday, which would be somewhat unusual for an Apple press event. My guess is that they're telling people December 9 but it might slip back to Tuesday or Wednesday the week after. Perhaps it will coincide with the opening of the Mac App Store?)
Gruber goes on to note that Apple's key contribution to The Daily has been its building in of support for recurring subscription billing for apps via iTunes. The new API could open the door for other such products offering true recurring subscription-based content.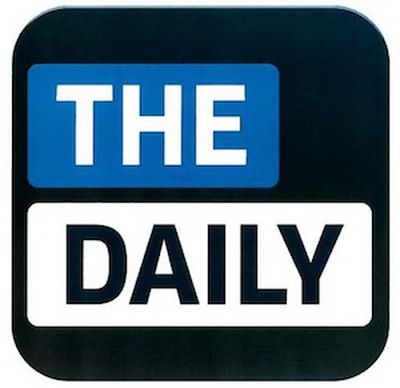 Meanwhile, French site
Consomac
reports
[
Google translation
] that it has tracked down a filing with the U.S. Patent and Trademark Office for a trademark application on an iOS-like icon for
The Daily
. The filing is registered to a company known as "News DP Holdings", which appears to be a shell corporation designed specifically to manage assets for the publication.