Hulu Updates 'Hulu Plus' iOS App, Lowers Subscription Pricing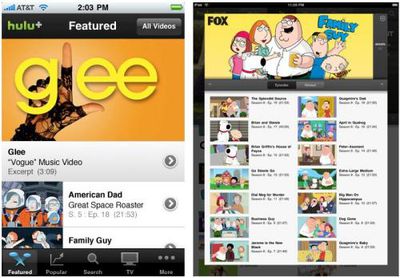 Hulu today released an updated version of its
Hulu Plus
[
App Store
] application for iOS devices, bringing several enhancements including a new split-screen player for the iPad version and improved management of subscriptions and queues.
What's new
- New split-screen player on iPad
- Enhanced queue and subscription management
- Improved playback performance
- New thumbnail viewer on iPad
- Miscellaneous bug fixes
The update comes just as Hulu announces that the Hulu Plus premium service has exited preview mode and is now officially launched to the public. With that announcement, Hulu has dropped the subscription price on Hulu Plus to $7.99/month from the $9.99/month rate that was charged during the preview period. Customers who signed up during the preview period will be credited for the difference.
I am happy to announce that today we are launching the Hulu Plus subscription service out of preview. With this launch, we are proud to offer our users the only subscription service with the full current season of hit TV shows like Glee, Modern Family, The Office, House, 30 Rock, Grey's Anatomy, and more, with minimal ad-load, across computers, TVs, mobile phones, and tablets.
With Hulu Plus officially launching today on Roku boxes and support for TiVo Premiere boxes coming in the near future, some have hoped that the service could make its way to the new Apple TV, but no such announcement has yet been made.