'Freemium' iPhone Apps Growing as Successful Business Model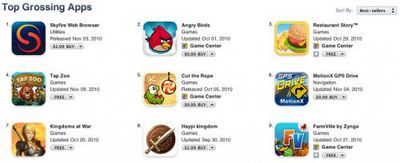 GigaOM takes a look
at so-called "freemium" iPhone apps: applications that are free to download and offer basic functionality but generate revenue through the use of In App Purchase content. According to the report, freemium apps are becoming increasing popular with developers, who are finding it a viable business model, and the number of such apps generating sufficient revenue to rank among the top-grossing App Store titles is increasing.
A look at the top-grossing iPhone apps today finds 34 of the top 100 apps are free, but make their money through in-app purchases of mostly virtual currencies as well as other premium features. Remco van den Elzen, CEO of analytics firm Distimo, said he believes in-app purchases now represent about 30 percent of all iPhone App Store revenue. "We're seeing more developers implement more in app-purchases especially with games," he said. "Freemium Apps are also picking up significantly. A lot of developers realize it's a successful model."
Another analytics firm tracking such data revealed that in January only two freemium iPhone apps ranked in the top 50 grossing apps, a number which rose to 10 by the end of October and stands at over 20 today.
The striking success of freemium iPhone apps comes even as their prevalence in the App Store remains low, with only about 1.34% of iPhone apps using the model during the third quarter of this year.
Interestingly, the freemium business model has yet to catch on with iPad applications, as none of the top 200 grossing iPad apps utilize the strategy on a platform where higher purchase prices for applications are the norm.
As the report notes, iPhone developers are learning how to offer a solid app experience for their free versions while also pushing attractive upgrade options via In App Purchase, finding that the strategy can be more lucrative than offering ads in their applications and attract a more loyal base of customers.