iPhone 4 Deemed Most Reliable, Least Rugged Among Popular Smartphones
Last month, warranty company SquareTrade shared the results of a study of warranty claims showing a higher accidental damage rate for the iPhone 4 than the iPhone 3GS, with the iPhone 4 having a particular propensity for cracked glass due to the fact that glass is used on both the front and back of the device.
SquareTrade today followed up with a broader study of over 50,000 smartphones covered by its warranty program, revealing that the iPhone 4 checks in as the most reliable smartphone when it comes to non-accident malfunctions, but that it also experiences the highest accident rates among the studied devices.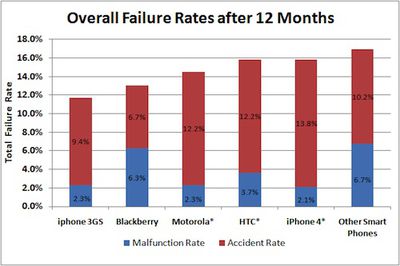 When it comes to non-accident malfunctions, SquareTrade's extrapolation of iPhone 4 data yields a failure rate of 2.1% after 12 months, better than the 2.3% rate for the iPhone 3GS and all other studied smartphone brands.
Apple emerged as the most reliable manufacturer, with Motorola not far behind. We project fewer than 2.5% of iPhone and Motorola owners will report a malfunction in the first 12 months of use, with iPhone 4s leading the pack. HTC came next with a one-year malfunction rate of 3.7%, and BlackBerry's 6.3% was the highest of the four manufacturers examined. All other smart phones taken together fared the worst, with 6.7% reporting a malfunction.
But in looking at accident rates, the iPhone 4 projections suggest that 13.8% of iPhone 4s will suffer an accidental breakage within the first 12 months, topping the list of studied smartphones that includes the iPhone 3GS and its 9.4% accident rate.
As reported in our previous study on the iPhone 4 glass, the early iPhone 4 data shows a much higher accident rate compared to its predecessor. However, when we compare it to the Android manufacturers, it is higher, but not by much. We expect 13.8% of iPhone 4 owners to report an accident within a year, compared to 12.2% for both Motorola and HTC.
The study comes just as Cult of Mac offers its own report corroborating earlier claims that Apple is investigating issues with slide-on cases for the iPhone 4 leading to cracked and broken glass backs on the device as dirt and sand trapped between the phone and case lead to scratches that weaken the glass.
The report claims that Apple's retail stores are not stocking slide-on cases for the iPhone 4 as the company works to thoroughly evaluate each case design at a secret testing facility. The delay in availability is affecting a number of case manufacturers, many of whom rely on Apple's retail stores as their largest distribution channels.
One high-profile manufacturer affected by the issue is Mophie, which reportedly ordered a production run of over 100,000 for its Juice Pack Air, which offers a combination case and rechargeable external battery. According to Mophie, the case is sold through the company's own site and through AT&T stores, but remains unavailable directly through Apple.
Other manufacturers are disputing that there is even a problem, calling it a perception issue that Apple is carefully trying to guard against, particularly after all the attention the company received over antenna performance issues on the iPhone 4. So until Apple can certify for itself that these third-party slide-on cases are not leading to cracked iPhone 4s, the company is expected to refrain from offering them for sale.