Amazon Offers 70-30 Revenue Split for Kindle Magazine and Newspaper Publishers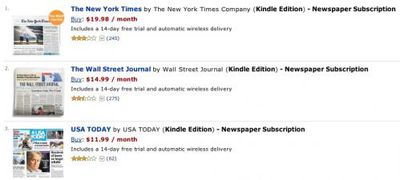 Amazon yesterday
announced
that as of December 1st it will begin offering new revenue sharing terms for magazine and newspaper publishers seeking to bring their content to the Kindle. Under the new terms, Amazon will keep 30% of revenue while passing along the remaining 70% to publishers, with delivery costs for content moved via paid services such as the company's Whispernet cellular data package shared between publishers and Amazon at the same 70-30 level.
Amazon.com, Inc. today announced that magazine and newspaper publishers will soon be eligible to earn a larger share of revenue from each title they sell in the Kindle Store (www.amazon.com/kindlestore). For each magazine or newspaper sold, publishers will be able to earn 70 percent of the retail price, net of delivery costs. These new 70-percent royalty terms will become available on December 1, 2010.
In order to be eligible for the program, publishers must comply with a set of requirements ensuring a quality customer experience, including at least a 95% match of content to that offered in the print edition and delivery of the content to Amazon at least three hours before print delivery begins.
Amazon's move to what is quickly becoming the standard revenue sharing model for digital content has been seen as a response to Apple's negotiations with publishers in which it is offering a similar split. For their part, publishers have been in large part holding out in hopes of moving their subscriptions outside of the traditional App Store or In App Purchase delivery streams for Apple's devices, looking to avoid having to give a 30% cut to Apple. With Amazon and Apple now on roughly the same page regarding delivery of magazine and newspaper content to their devices, publishers may finally be willing to come onboard with the stabilized pricing structure.