Steve Jobs: Support for iTunes Extras and iTunes LP 'Coming' to New Apple TV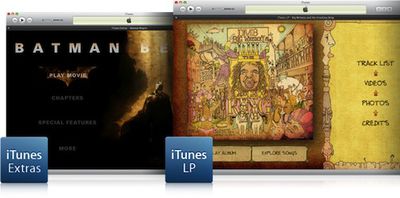 One of the features missing on the new Apple TV launched in September has been support for iTunes Extras and iTunes LPs, two sets of
enhanced content
available on select iTunes Store purchases.
When you purchase an album with iTunes LP, you receive the songs from the album, plus special features such as lyrics, photos, videos, credits, and more. When you buy a film with iTunes Extras, you'll receive the featured movie and chapter selection along with special features such as movie stills, deleted scenes, exclusive interviews, and behind-the-scenes footage.
Introduced with iTunes 9 in September 2009, iTunes Extras and iTunes LPs made their way to the original Apple TV with the Apple TV 3.0 software update the following month. But with a move to iOS for the new Apple TV, that compatibility has gone missing.
One MacRumors reader, Conor Winders of Redwind Software, recently emailed Apple CEO Steve Jobs to ask about the future of iTunes Extras and iTunes LP on the new Apple TV, and Jobs offered a customarily-brief reply:
Q: I've been a massive fan of the original Apple TV since it launched, in fact I have 2 of my own and have bought a fair few as gifts over the years. So as soon as the new Apple TV was released I bought one. Overall it's a fantastic update for me as I always stream from my Mac mini anyway. But here's the kicker - Where are iTunes Extras and iTunes LP gone? I've purposely been buying content with those features just for my Apple TVs. And now the features are unusable on my new box?! Is there an update coming to fix this?
A: Coming.
Sent from my iPhone.
It is unclear when we might be able to expect support for iTunes Extras and iTunes LP to come to the new Apple TV, but an update for the device is expected alongside the imminent iOS 4.2 update for other iOS devices in order to support AirPlay streaming functionality.
If iTunes Extras and iTunes LPs do make the transition to the new iOS-based Apple TV, it seems natural that they could also make their way to other iOS devices such as the iPad at some point. The iPad was seen as a strong opportunity for Apple to promote iTunes LPs in particular, offering users the ability to experience the enhanced content on a tablet-sized screen right in their hands, but iTunes LPs remain unsupported on the iPad and limited to only iTunes on Mac and PC.