Apple Investigating Issue With Monster Headphones [Updated]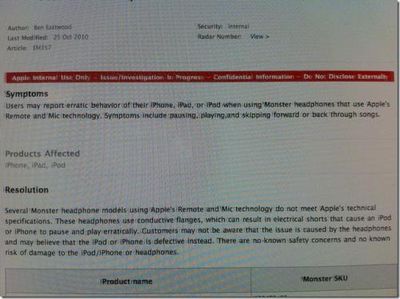 Apple is reportedly investigating an issue with a number of
Monster-branded headphones
designed to use Apple's Remote and Mic technology. According to photo screenshots of an internal Apple service bulletin, headphones included on the extensive list do not meet Apple's technical specifications and can cause iPods and iPhones to play and pause erratically.
Several Monster headphone models using Apple's Remote and Mic technology do not meet Apple's technical specifications. These headphones use conductive flanges, which can result in electrical shorts that cause an iPod or iPhone to pause and play erratically. Customers may not be aware that the issue is caused by the headphones and may believe that the iPod or iPhone is defective instead. There are no known safety concerns and no known risk of damage to the iPod/iPhone or headphones.
The list of nearly two dozen headphone models affected by the issue include representatives of Monster's Lil Jamz, Jamz, Turbine (Pro and Basic), and Heartbeats lines. The service bulletin does not appear to recommend a specific course of action for Apple representatives or the customers affected by the issue, but they should presumably contact Monster for support.

Update
: Monster has provided
BGR
with a
statement
on the situation:
Monster was recently made aware by Apple that some of our Jamz, Turbine and Heartbeats headphones with ControlTalk may experience some irregularities under certain circumstances (it does NOT affect ControlTalk Universal). This irregularity potentially affects a very small fraction of our headphones and to this date we have received no customer complaints. However, because the customer experience is our top priority, Monster immediately stopped shipment of all potentially affected products.
With the exception of the black or chrome Heartbeats with ControlTalk, this issue does not affect any other of the Beats by Dr. Dre products. If you think you are experiencing a problem with one of the headphones listed below, please contact Monster customer service [http://www.monstercable.com/service] to receive a replacement.
Potentially affected products include ControlTalk versions of Lil Jamz, Jamz, Turbine, Turbine Pro and Heartbeats.