'Apple Store' iOS App Updated With Location Aware Appointment Check-Ins, Reserve and Pick-Up, and More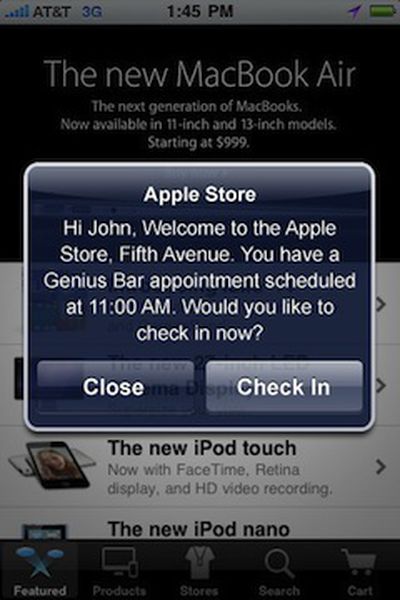 Apple today updated its
Apple Store
application for iOS devices, adding several new features including location awareness to allow users to check in for appointments at their local Apple retail store.
What's new
- Add engraving and gift wrapping to select purchases from the Apple Online Store
- Reserve products for pickup at an Apple Retail Store
- Check in for Apple Retail Store appointments and call up quick help within stores (iOS 4 required)
- Add Apple Retail Store appointments directly to iCal
- View your upcoming Apple Retail Store activity on a map
- Ability to recognize you when you arrive to an Apple Retail Store and offer you a personalized set of services (iOS 4 required)
The in-store location integration was detailed at the last minute by MacStories, which revealed that Apple has rolled out a pair of applications for its retail store employees called Concierge and Scout. The new applications allow employees to check in on the queue of customers holding appointments and assist managers with deploying staff throughout each store.
The report, which includes a number of screenshots, also describes the process by which a customer arriving at an Apple retail store receives a notification of an upcoming appointment, offers to check in the customer, and displays a photo of the employee assigned to assist the customer to aid in recognition.
In addition to location-awareness, the revised Apple Store application offers support for the newly-launched iPad engraving (as well as iPod engraving) and holiday gift wrapping.
As Boy Genius Report notes, the updated application also now allows users the option of reserving a white iPhone 4 at select retail store locations. It is unclear whether their appearance is imminent, but Apple has stated that it expects them to be available by the end of the year and appears to gearing up to support their availability.
Update: The option to reserve a white iPhone 4 is no longer accessible through the Apple Store application.