Microsoft Unveils Windows Phone 7 Handsets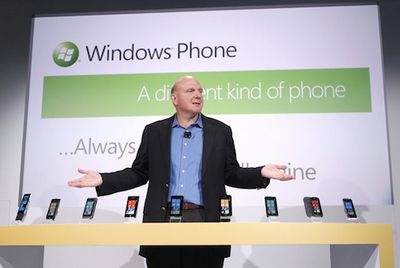 At a media event today, Microsoft
officially unveiled
its
Windows Phone 7
operating system, along with nine new handsets from a variety of manufacturers that will run the new operating system. Windows Phone 7 saw its
first introduction
back in February.
"We have a beautiful lineup in this first wave of Windows Phone 7 handsets," said Steve Ballmer, chief executive officer at Microsoft. "Microsoft and its partners are delivering a different kind of mobile phone and experience - one that makes everyday tasks faster by getting more done in fewer steps and providing timely information in a 'glance and go' format."
One of Microsoft's launch carrier partners in the U.S. is AT&T, which has announced three new Windows Phone 7 devices: the HTC Surround, the LG Quantum, and the Samsung Focus. The Focus is set to launch on November 8th, with the other two handsets following suit by the holidays. T-Mobile is planning to launch the HTC HD7 in mid-November, with the Dell Venue Pro also set to ship by the holidays. Verizon and Sprint will begin offering Windows Phone 7 devices in 2011.
Centered around "hubs" that allow users to quickly see a variety of pieces of information related to such topics as People, Music, Photos, and Office, Windows Phone 7 will also accommodate third-party apps such as Twitter, eBay and a library of gaming titles from EA, in addition to apps from smaller developers facilitated by Microsoft's developer program for the platform. In a departure from the icon-focused user interface used by Apple and others, Microsoft has chosen to utilize a flowing interface of flexible "tiles" that can each represent various pieces of information depending on the type of data required to be presented.