Apple's New Lincoln Park Retail Store in Chicago Opens Tomorrow
Apple is set to open its new
Lincoln Park retail store
in Chicago tomorrow at 10:00 AM, an event that will mark the debut of a yet another of Apple's "significant" stores that are meant to provide an iconic presence for the company.
ChicagoNow
and
ifoAppleStore
offer a sneak peek at the new store and the unique arrangement that has seen Apple construct a public plaza and
refurbish
a run-down subway station next door to the tune of nearly $4 million.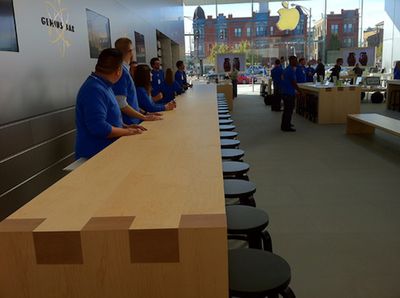 As
ChicagoNow notes
, the new Lincoln Park store offers three entrances, suiting the building's siting on a triangle of land.
At the North Avenue entrance - conveniently on the north side of the building, it's all about retail. That's where you go in to see every single product Apple sells. The south entrance is the Clybourn entrance, and it's there you go to learn via One To One or a workshop. And then there's the center entrance facing the CTA station and new public space which features a courtyard with tables, benches, a fountain and Wi-Fi.
ifoAppleStore points out that the store offers a few hidden elements, including stockroom and other support functions being hidden away in a basement, along with a green roof.
The building has a green roof that helps keep the interior cooler and generates a little oxygen for Chicago. The roof also serves another purpose: it collects rainwater that is used to water the landscaping in the plaza. Signs within the plantings warn visitors not to drink the runoff.
As for the train station next door, Apple has paid to spruce up the 1940s-era building inside and out, refocusing the station's pedestrian flow to bring riders through the public plaza between the station and Apple store. In exchange for its contribution to the station's renovation, Apple has advertising rights within the station and on the platform, along with the right of first refusal should the Chicago Transit Authority decide in the future to sell naming rights to its stations.