Amazon's German Site Notes October 20th iLife Ship Date [Updated x2]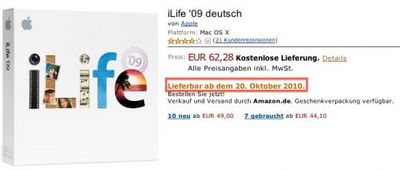 As
noted by 9 to 5 Mac
, the
page for iLife '09
on the German Amazon site has been updated to list an availability date of this Wednesday, October 20th, the day of Apple's "Back to the Mac" media event.
It is frequently difficult to assess the reliability of Amazon's item listings for unreleased Apple products, as the company frequently posts placeholders and other estimates based on its expectations for future releases rather than true inside knowledge. But with just two days to go before Apple's media event, the development is certainly being seen as an indication that we may see an iLife revamp.
Amazon has been a frequent source for iLife claims in recent weeks, including iLife '11 pages briefly appearing in early September, and iLife '11 book listings appearing on the German site earlier this month. iLife '09 and iWork '09 were also noted to be backordered at Best Buy over the weekend, adding further hints regarding a potential update. Rumors of iLife kicked into high gear in late July with rumors of a revamp coming in August, but the rumored timeframe obviously didn't come to pass.
9 to 5 Mac also notes that Amazon's U.S. site is showing a price of $49.99 for iLife, although it is difficult to gauge whether this represents a change in Apple's list price for the software from its current $79, as Amazon's prices have long varied significantly up and down over time while remaining below Apple's list price.
Update: Several readers have written in to point out that shipping estimates for virtually all of Apple's notebooks and desktops slipped over the weekend to "2 business days" in the company's European online stores, leading to speculation that new orders are being briefly held for the release of updated iLife software.
Update 2: Apple's UK online store is also showing 1-2 week shipping estimates for both single-user and family pack versions of iLife '09.