MacRumors Reaches Half a Million Forum Members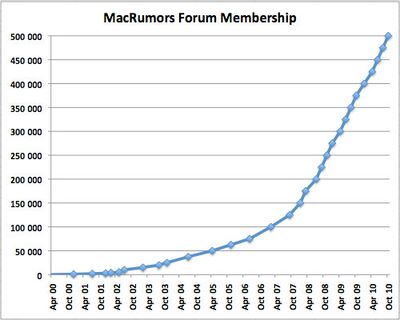 The MacRumors forums have reached half a million members, reaching a new milestone in forum participation. Tens of thousands of users joined MacRumors in recent months, fueled by speculation and discussion surrounding the
release of iOS 4
, the
iPhone 4 launch
, the controversy over the
iPhone signal strength problem
, and Apple's release of new
iMacs
,
Mac Pros
, and other products. Just shy of 20000 members joined in June and over 20000 in July, the highest monthly totals in MacRumors history.
MacRumors was founded in February 2000 by Arnold Kim and Blake Patterson. The forums have grown at an increasing rate each year since. Over the past 6 months forum registrations have reached about 500 per day (15000 per month).
A number of factors have contributed to the success and growth of the site, including MacRumors' reputation for careful evaluation and reporting of rumors and speculation and the expansion of our staff to cover more news. Our growth also reflects Apple's growth, with its expansion into new business areas, the rising number of Apple customers, and the attention focused on Apple by the press and the public in general, both in the U.S. and internationally.
Some members register for MacRumors seeking technical help, while others want to discuss the latest news and rumors. Many stay for years, reading and writing posts about both Apple and non-Apple topics as they participate in our ever-changing and ever-growing online community. Some forum members have been along for the entire ride. Of the forum posters who joined in 2000, 43% have been active within the last 2 years. The following members, listed by user name, have been logging in or posting for over 10 years: 63dot, balloons, barefeats, bigjohn, CompUsed, curmi, dsma, Ishan, jeremycrandell, kainjow, Mark Colangelo, mdntcallr, michaelrjohnson, nodttiurp, outZider, stukick, tviolation, and vanguys. Congratulations!
We thank our regular visitors, new forum members, and long-term members for their support over the years. In an online community the users, not just the meeting place, make the site what it is.
Other past and more recent milestones of interest: 1 million posts (August 2004), 5 million posts (February 2008), 200 thousand members (July 2008), 10 million forum posts (May 2010), 1 million forum threads (August 2010)
MacRumors administrators: arn, Doctor Q, Knox, longofest, Mudbug, WildCowboy, xUKHCx
MacRumors moderators: see list