MacRumors Reaches Ten Million Forum Posts [Updated]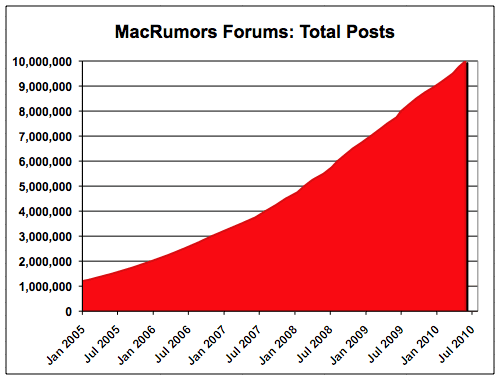 MacRumors Forums, the discussion boards for the MacRumors website, reached a major milestone today: 10 million forum posts. MacRumors' coverage of Apple's products and business, along with the MacRumors discussion forums, Buyer's Guide, Mac Guides, and other site features, attract millions of users each month and make MacRumors the #1 Apple site other than Apple's own website. Quantcast ranks MacRumors among the top 500 U.S. websites. The very active forums reflect the success of the site, the continuing and rising level of interest in Apple, and the overall growth of the Apple community.
To celebrate its forum milestone MacRumors will be running a Ten Million Post Avatar Contest starting June 1. We'll announce the details that day and invite forum members to show off their creativity.
It took MacRumors 6 years and 2 months to reach its first 5 million posts but just 3 years and 2 months more to reach a total of 10 million posts. Over 1 million forum posts have been made in the first 5 months of 2010, with an average of over 7000 posts per day, up from about 6000/day in 2008 and 2009. For comparison, post rates were approximately 500/day in 2002, 1000/day in 2003, 1500/day in 2004, 2000/day in 2005, 3000/day in 2006, and 4000/day in 2007.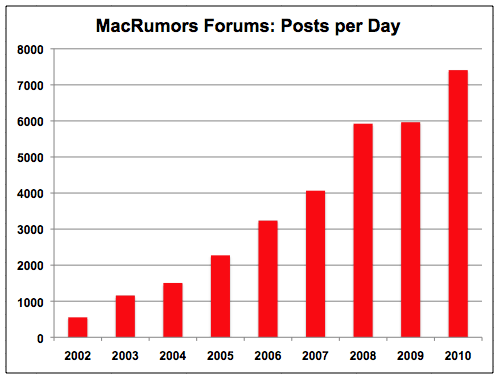 MacRumors forum membership has seen corresponding growth, with 438,000 members this month, more than double the number from just 21 months ago. There were a quarter of a million forum users in November 2008. At present growth rates forum membership will top half a million before the year is out.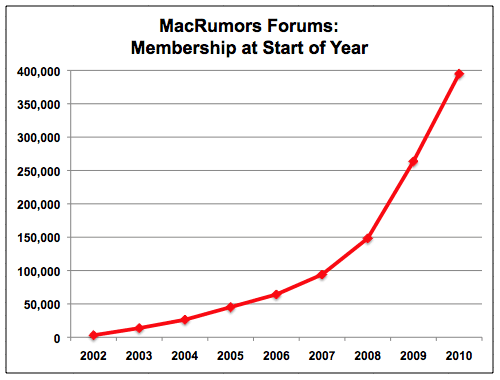 Thank you to our forum members, contributors and sponsors, and all those who have made MacRumors their regular destination. We'd also like to recognize and thank our hard-working volunteer moderators for maintaining the quality of the MacRumors forums.
MacRumors administrators: arn, Doctor Q, Knox, longofest, Mudbug, WildCowboy
MacRumors moderators: see list