Survey Looks at Customer Carrier Preferences Once AT&T Loses iPhone Exclusivity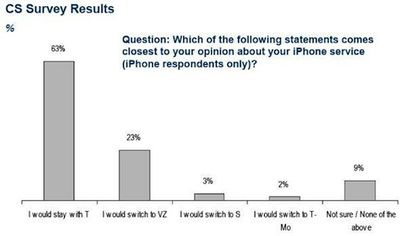 Credit Suisse yesterday released the results of a customer survey examining what current customers are likely to do once AT&T loses its exclusivity for the iPhone in the United States.
Silicon Alley Insider
shares some of the charts
from the presentation, which suggests that 23% of AT&T's iPhone customers could defect to Verizon if the phone were to launch on the carrier early next year.
A new survey from Credit Suisse says 63% of iPhone owners will stick with AT&T, even if it loses the exclusive right to sell the phone.
Where would AT&T iPhone owners go if given the chance? 23% will join Verizon, while 3% will go to Sprint, and 2% will go to T-Mobile.
Credit Suisse views AT&T's surveyed retention rate of 63% as a positive, calling fears of the effect of the loss of iPhone exclusivity for AT&T overblown.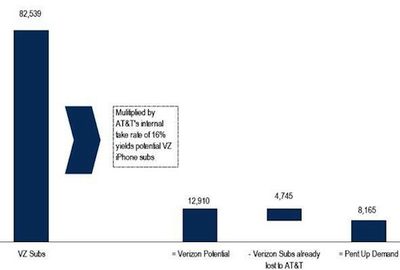 Following the
same rationale
as that used by Morgan Stanley earlier this year, Credit Suisse estimates that approximately 8 million current Verizon customers would move to the iPhone should it become available on the carrier. That figure is calculated by using the internal iPhone adoption rate for AT&T of 16%, multiplying it by Verizon's customer base of 82.5 million, and accounting for nearly 5 million former Verizon customers who have already moved to AT&T for the iPhone.
Finally, Credit Suisse's data predicts that AT&T will have 18 million iPhone subscribers by the end of this year, up from nearly 13 million at the end of 2009 and 6.6 million at the end of 2008.