Speculation That Apple's Rovi Deal Could Signal Shift Into Live TV and DVR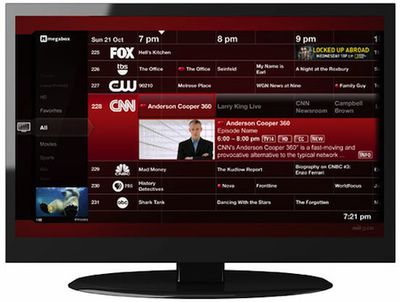 Earlier today, we
reported
that Apple and Rovi have signed a "multi-year agreement" for Apple to license certain portions of Rovi's intellectual property portfolio. While the regulatory filing revealing the deal offered no insight into which of Rovi's several areas of operation Apple is lining up to utilize, one analyst believes that Apple may be targeting Rovi's interactive television program guides as part of an initiative into live TV and DVR capabilities, possibly stretching as far as an Apple-branded television set.
The report comes from Piper Jaffray analyst Gene Munster (via Silicon Alley Insider), who has long been a proponent of the theory that Apple will eventually launch television set products offering integration with the company's existing media services.
We believe this announcement is further evidence that Apple is developing live TV and DVR features for its Apple TV product, and will likely launch an all-in-one Apple Television in the next 2-4 years. Following its deal with Rovi, Apple would be clear to add live TV, DVR, and guidance features to its Apple TV product, which we believe is a critical step towards an all-in-one Apple Television.
We currently believe Munster's comments to be pure speculation, as we have seen no evidence that Apple has specifically licensed Rovi's guide technology, although that could certainly be the case. Interest in the new Apple TV and iTunes Store offerings have, however, been sparking interest in Apple's TV plans, and the possibility of Apple entering the live TV/DVR market and eventually the television set market have certainly already been on the minds of many.
Update: As 9 to 5 Mac points out, Apple is already a customer of Rovi, which reportedly provides metadata for iTunes Store content. Consequently, it is unclear whether today's announcement is even related to anything substantial or if it simply an extension of the two companies' existing agreements.