Parallels 6 Prematurely Appears on Store Shelves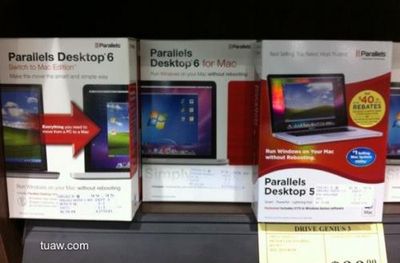 TUAW reports
on one reader spotting the retail packaging for Parallels 6 at a local Fry's store:
No official announcement from the virtualization mavens at Parallels, but it appears that the next version of the company's Mac app for Windows virtual machines is already popping up at retail. Sharp-eyed reader Matthew Fern snapped this shot of Parallels Desktop 6 already on sale at Fry's Electronics in Roseville, CA.
Version 6 hasn't yet been officially announced yet, but apparently is undergoing testing. So, if you were on the market for a virtualization client, it may be best to wait a bit longer.