Spammers Already Taking Aim at Apple's Ping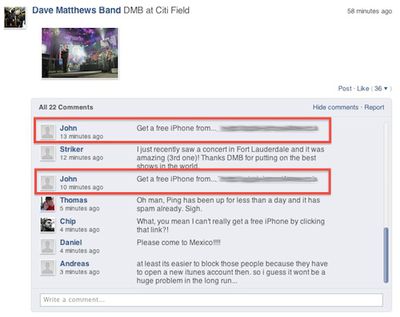 It's been less than 24 hours since Apple
released
iTunes 10 and its integrated social networking functionality, Ping, but spammers and scammers are already starting to spread their messages via the service. The first major instance appears to be a "free iPhone" scam that has seen multiple accounts posting replies to entries from a number of the most popular music artists currently using Ping.
While it shouldn't be a surprise that spammers would seize upon any opportunity to get their links in front of a large number of people, Ping's linkage to the iTunes Store would at first glance appear to make things more difficult for spammers, who would need to create verified iTunes accounts before spamming.
But while Apple has touted over 160 million iTunes Store accounts with credit cards associated with them, a credit card is not required to open an account, as Apple allows users to create accounts to download free iTunes Store content without the need for confirmed payment details that might otherwise discourage spammers.

It remains to be seen how well prepared Apple is to deal with this influx of spam, although the company has built in the ability to report postings containing offensive, inappropriate, or spam content. The multiple spam accounts for the first "free iPhone" spam wave remained active for up to four hours before being disabled just minutes ago, although their posts still remain visible in Ping.