Apple Seeds First Developer Build of Mac OS X 10.6.5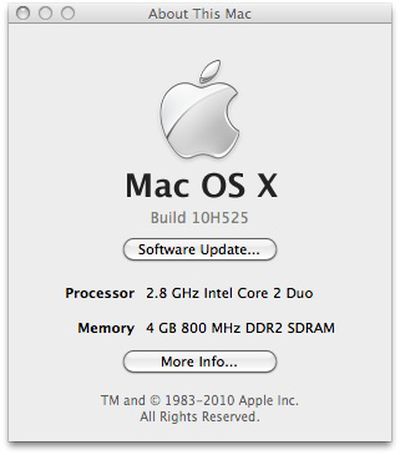 Apple today seeded the first developer build of Mac OS X 10.6.5, the fifth maintenance release to the company's Mac OS X Snow Leopard operating system. According to those familiar with the release, which is termed Build 10H525, developers are being asked to focus their testing on iCal, Mail, Printing, 3D Graphics, QuickTime and X11.
The build reportedly contains two documented known issues related to activating user interface elements in Web Views such as in the iTunes Store and errors with connecting to Exchange servers. Apple also notes that Mac OS X 10.6.5 developer builds contain the latest graphics drivers being tested in parallel in the Snow Leopard Graphics Update.
We noted late last month that Apple appeared to be gearing up to begin seeding builds of Mac OS X 10.6.5, but it seems to have taken a bit longer than expected for Apple to push out the first of an unknown number of builds. Apple's seeding programs can be highly variable in length due to the uncertain nature of the testing and tweaking process, and thus we do not yet have an estimate of when Mac OS X 10.6.5 might be released to the public.
Mac OS X 10.6.4 was released in mid-June, shortly after the close of Apple's Worldwide Developers Conference.