Apple Adds 'Genius' Tab to iPad App Store
Several readers have noted that Apple has rolled out a new "Genius" feature for its App Store application on the iPad. Similar to other Genius offerings from Apple, the new tab offers automatic suggestions on applications users might be interested in based on other applications that have already downloaded.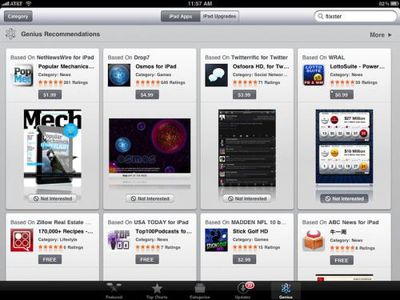 After activating the service by agreeing to the terms and conditions, which note that titles in users' application libraries will be anonymously uploaded to Apple to allow recommendations to be made, users are taken to a page offering the recommendations.
Two sections are offered: One recommending new applications and one recommending upgraded versions of applications the user already owns, such as full versions of free "lite" applications or pro versions of lower-level paid applications. The upgrade section seems to be part of a broader initiative undertaken by Apple, which includes a new Try Before You Buy section of the App Store that seeks to encourage users to test out free, lite versions of applications and then upgrade the ones they like to full, paid versions.
The iPad Genius Recommendations feature also allows users to note that they are "not interested" in a particular recommended title, an aspect that will allow the Genius feature to continually refine its recommendations for users.