Flashlight App Sneaks Tethering Into App Store (For Now) [Pulled]
Handy Light, a new flashlight app by developer Nick Lee, brings unofficial SOCKS Proxy tethering to the iPhone hidden behind what appears to be a simple flashlight app that uses the screen for illumination. The app's description provides no hints of this hidden feature though Lee has posted a YouTube video demonstrating how it works. We've also given the app a spin and verified this tethering works as described.
Nullriver was the first to offer an unofficial tethering app, NetShare, for the iPhone in late 2008 though it was quickly
pulled
from the App Store and never became available again. Based on that reaction from Apple, it's likely that Handy Light will not remain in the App Store long either. Apple also has previously informed developers that such "easter eggs" must be declared in apps when submitted, so we don't expect Apple will take kindly to this hidden feature.
HandyLight sells for $.99 [iTunes link] and written instructions on how to use it have been posted at AppShopper.
Update: App has been pulled from App Store: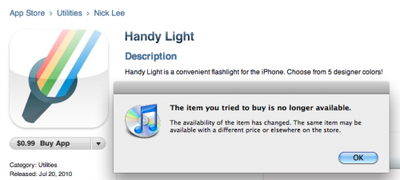 Handy Light reached the #2 in the top paid apps listings before being pulled.