A Look Inside Apple's Wireless Testing Facilities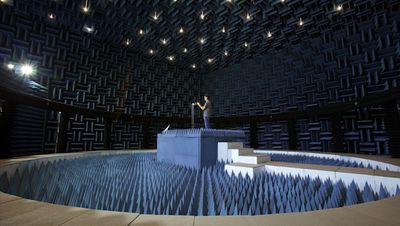 Earlier today, Apple
posted
a video of today's press conference addressing antenna issues with the iPhone 4, also adding to its website a
section
dedicated to antenna design and testing as highlighted during the press conference.
While the new section of Apple's site provides an interesting glimpse into the company's $100 million investment in antenna design and testing labs, Apple went one step further and invited 11 members of the media on a brief tour of the previously-secret labs following today's event. Macworld reports on the tour, which was led by Apple engineer Ruben Caballero, who was the subject of a Bloomberg report yesterday claiming that he had warned Apple CEO Steve Jobs early in the iPhone 4 design process that the antenna design could cause reception problems, a claim Jobs today called a "crock" and "total bullshit".
The point of the tour was clear: to show that Apple takes the testing of wireless issues very seriously, and that suggestions that the company was simply sleeping on the job when it came time to test the iPhone 4 are misguided.
The report highlights the secrecy of the facility, noting that even Apple's PR representatives on the tour had never visited it before and that the lab's workbenches were covered with black cloths, a security procedure followed even when other Apple employees enter the facility.
We toured several different chambers, and they're pretty eerie places. Caballero would occasionally step into a chamber, leading in a few reporters (they're generally far too small to fit more than a handful of people inside), and the moment he entered the chamber his voice became nearly inaudible, due to most of his sound being absorbed by the foam on the chamber's walls. Even the handles of the heavy doors are made of Fiberglas, and the doors are lined with copper to ensure the entire room is a Faraday cage.
Apple's tests, which can take up to 25 hours to run across all frequencies, are conducted in a variety of settings in the company's testing chambers, including positioning the device on styrofoam blocks, in human hands, and in the vicinity of realistic "phantom" mannequin body parts.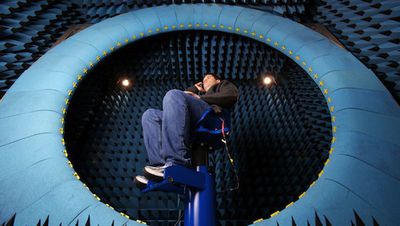 Finally, Apple showed off its CT scanner purchased for scanning products for defects without requiring them to be opened and changing their electromagnetic properties, as well as a field-testing van that allows engineers to test reception in real-world settings.
Update: Engadget has also posted a description of the behind-the-scenes tour, offering a similar perspective.