iPad Taking Hold in Corporate Settings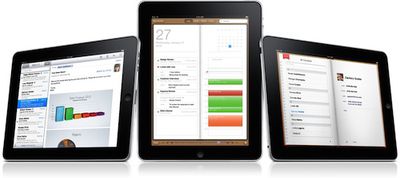 Bloomberg Businessweek profiles
the rapidly-growing impact of Apple's iPad in the business world, showing how lessons in data security and other aspects important in corporate settings learned by the company with the iPhone have allowed the iPad to quickly gain popularity with an array of companies in various industries.
Apple, known for courting consumers with sleek designs and easy-to-use software, is making inroads with corporations that say the iPad can make workers more productive without putting sensitive customer information at risk. SAP (SAP), Tellabs (TLAB), and Daimler's (DAI:GR) Mercedes-Benz are using the tablet-style computer for tasks as varied as accessing work e-mail, approving shipping orders, and calling up on-the-spot auto-finance options.
Analysts note that companies have been reluctant to adopt tablet-based computers until now due to their typically underpowered nature and inability to multitask. The appeal of the iPad has, however, caused companies to rethink how tablets can be used and to experiment with the iPad in their businesses.
Reservations aside, Wells Fargo saw early on how quickly the iPad might take hold among business clients the weekend the device was released. Finance executives of large companies - those that generate more than $50 million in revenue - accessed corporate Wells Fargo accounts with iPads, says Amy Johnson, a Wells Fargo vice-president who works on the company's online portal and mobile strategy. A finance official or account representative could use a mobile device like the iPad to approve multimillion-dollar wire transfers, she explains.
The report also highlights Daimler's Mercedes-Benz unit, which has rolled out iPads to 40 of its U.S. dealerships to allow sales representatives to share financing options with customers as they wander around the showroom. The company has also released an iPhone application to allow customers to manage their finance accounts and make payments on their vehicles, signaling the company's growing presence on Apple's iOS platform.