iBooks Update to Include Notes, PDF Compatibility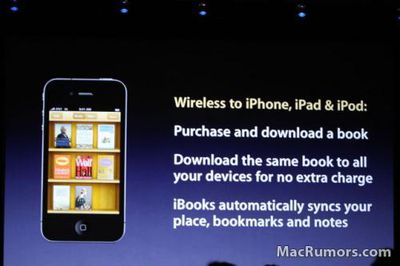 At today's WWDC keynote, Steve Jobs announced that the iPad's iBooks app will receive an update later this month that will add the ability to view PDF documents within the app. Additionally, the app will get an updated bookmarking control and users will be able to add notes to books and documents.
Jobs noted that PDF viewing has been the most requested feature from iBooks users. PDF documents will be shown on a separate virtual bookshelf within the app.
Notes will be displayed as yellow sticky notes, imitating the Stickies application in Mac OS X, and both notes and bookmarks can be viewed on a new Bookmarks page when reading a book or document. iBooks will also be arriving for iOS 4 (previously known as iPhone OS 4) devices, which include the iPhone and iPod touch.