AdMob Launches Support for iPad Apps in Updated Advertising SDK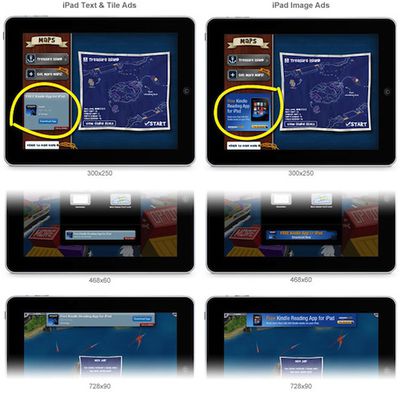 Google subsidiary AdMob today
announced
the release of a revised iPhone OS SDK bringing new ad formats that will allow customized delivery to the iPad.
Our new SDK is unified across all devices running the iPhone OS, which means that developers can download one binary for development across all Apple iPhone OS devices - iPhone, iPod touch, and iPad. AdMob's unified iPhone SDK makes it easier for developers to quickly integrate our code and start monetizing their applications.
The new SDK supports two ad formats in native iPad applications: text & tile ads and image ads. Both of these ad formats are available in the three IAB standard ad sizes: 300250, 72890, and 46860.
AdMob notes that it is already working with advertisers on the new platform, with Amazon rolling out a Kindle ad campaign tailored for the iPad. Publishers and advertisers can access the new SDK through their online AdMob accounts.
Despite the fact that today's release is limited to "text & tile" and image ads for the iPad, AdMob has also posted a demo showing how HTML5 tools will in the future enable more engaging user experiences in advertising on the iPad.