AT&T to Begin Offering iPhone Insurance on June 6th? $13.99 Per Month Plus Deductible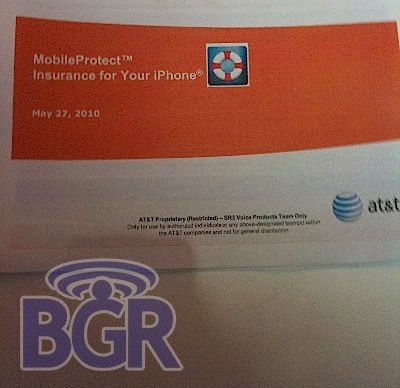 Boy Genius Report claims
to have received information from a source at AT&T indicating that the carrier is set to introduce a hardware insurance program for the iPhone, allowing users to protect themselves (for a relatively substantial monthly fee) against replacement costs for out-of-warranty hardware failures, as well as accidental (including liquid) damage and loss or theft. The "MobileProtect" insurance program will be set up through the App Store and then billed monthly via credit card.
AT&T will be launching a new insurance service starting June 6th, named MobileProtect, designed specifically for the Apple iPhone. The insurance plan, which will be run by Asurion, will carry a price tag of $13.99/month and will be available for purchased through Apple's App Store. The charges will be billed to the credit card on file with Apple. The deductibles range from $99 for an 8GB 3G to $199 for a 32GB 3GS, which is pretty steep - but not quite as steep as $699 for a new 32 GB 3GS off-contract.
Set to launch on June 6th, the program goes into effect just one day before Apple is expected to introduce its next-generation iPhone hardware at its Worldwide Developers Conference. Users must also register for the program within 30 days or purchasing a new iPhone, and it will not be offered retroactively to existing users.

As the report notes, $168 in insurance premiums per year appears to be a relatively steep cost, especially considering the deductibles to be charged on top of that for replacement. Its comprehensive coverage may, however, make the proposition worthwhile for some customers.
Since its 2007 launch, the iPhone has been specifically excluded from AT&T's standard Wireless Phone Insurance, which is also run by Asurion and carries substantially lower premiums and deductibles than the new iPhone-specific plan.