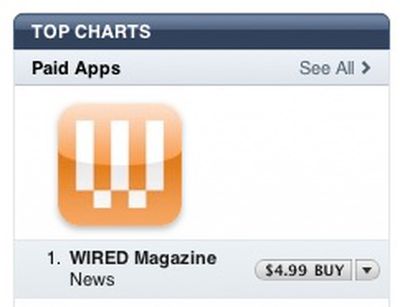 Wired's new iPad app
, launched
just yesterday
has already jumped to the top of two of the App Store's prominent "Top Charts" in the U.S.: Paid Apps and Top Grossing.
Wired notes
that it sold 24,000 copies of the application in its first 24 hours of availability.
It's difficult to put that number in context, because there aren't many iPad magazine apps yet, these being the earliest days of the new platform for which publishers have high hopes but little track record to parse.
But there is a bit. Business Insider earlier Thursday had estimated Wired's first-day run would be in the 3,000 range. Media sources tell Wired.com that the July app of Popular Science - an April 3 iPad launch partner - sold about 18,000 total. Wired magazine sells about 82,000 single copies on newsstands every month and has about 672,000 subscribers.
Wired was one of the first publications to thoroughly investigate how it might be able to bring its content to the iPad, months before the device was even introduced. The magazine and its publisher Cond Nast had to rework its initial plans, however, after Apple's prohibition against Flash on the iPhone was extended to the iPad.