Barnes & Noble Releases 'BN eReader' Application for iPad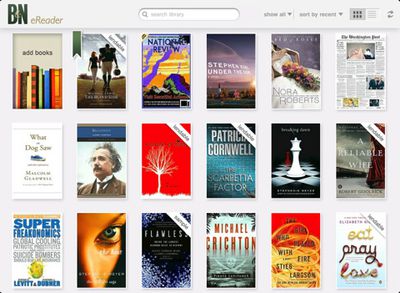 Barnes & Noble today
announced
the release of its free
BN eReader for iPad
application, joining Apple's
iBooks
and Amazon's
Kindle
as prominent eReader platforms for Apple's tablet device.
BN eReader for iPad is designed to offer an easy, yet sophisticated, customizable reading experience. Users can choose from multiple ways to view their library, including professionally designed themes with elegant and complementary text and page colors, as well as fonts; and instantly switch between portrait and landscape views based on personal preference. BN eReader for iPad users can further personalize their reading experience with unparalleled options: literally millions of colors for text, pages, highlights and links; eight typefaces and five text sizes; and a variety of margins and customizable spacing options.
Full details and an overview are available on Barnes & Noble's site.

BN eReader for iPad
also supports the company's "LendMe" technology, which allows users to share certain eBook content with others. The feature integrates with the iPad's address book, making it easy for users to invite others to share their material. Content "lent" to another person is available for 14 days, and incoming LendMe invitations are visible directly within the the iPad application.
Like Amazon's Kindle application, users looking to purchase content through Barnes & Noble's eBookstore are redirected to the company's browser-based store rather than being able to purchase within the app, a generally minor inconvenience created by Apple's policies on in-app transactions.
Barnes & Noble officially acknowledged in mid-March that it was working on an iPad application, and the company has offered a version of its eReader application for the iPhone and iPod touch since last July.