Steve Jobs on WWDC Announcements: 'You Won't Be Disappointed'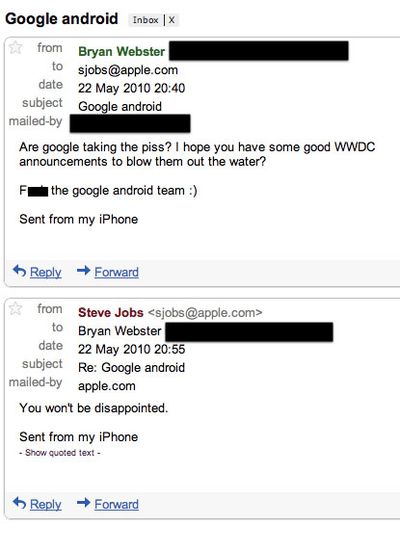 After the
big news
from Google last week, MacRumors reader
Bryan Webster
emailed Steve Jobs: "I hope you have some good WWDC announcements to blow [Google] out of the water".
To this, Steve Jobs reportedly replied "You won't be disappointed". While it's always hard to authenticate emails sent to and from 3rd parties, Bryan did post headers as an offering of proof.
Apple is expected to be making new product announcements at the Worldwide Developer's Conference from June 7th-11th. In particular, everyone expects that the next generation iPhone will be introduced at that event. Other rumors have suggested that we may see the iPhone with Verizon this year, though it may not come as early as June.