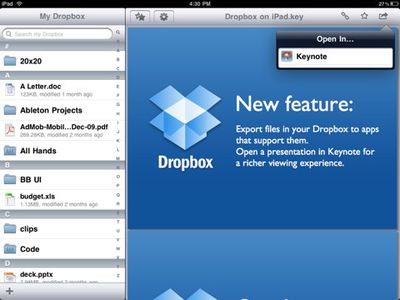 Dropbox
, the popular document syncing and sharing service, has updated its
iPhone application
originally
released
last September to add iPad compatibility. The new universal
Dropbox
application now supports all three iPhone OS devices with the iPad gaining access to a customized interface able to take advantage of the much larger screen size.
What's New
- iPad support
- Take advantage of all the features offered in Dropbox for iPhone from your iPad!
- Export documents from your Dropbox into third-party iPad apps.
- Better support for landscape orientation on iPhone & iPod.
Dropbox continues to offer three levels of service with varying amounts of storage space: Basic (2 GB, Free), Pro 50 (50 GB, $9.99/month), and Pro 100 (100 GB, $19.99/month). The App Store application remains free for all users.