Prototype 3rd Gen iPod Touches with Camera Appear on eBay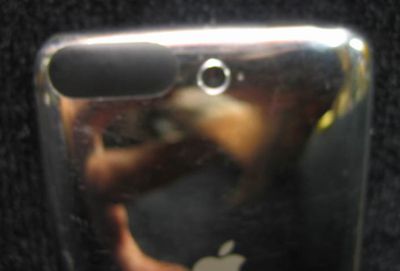 Two prototype iPod touches were listed on eBay for a short time this morning before they were removed. The listing was first noted on our forums with photos posted by 9 to 5 Mac before the listing was removed. According to a YouTube video by Bilsta57, the original eBay description was the following:
"Well..These were R & D units..One wont turn off and has some wierd OS...or lack of firmware So it will be dead when you get it,,,but will power up when you plug it in...The other won't turn on has a brown spot on the screen. Both have cameras"
Blista57 also reports that when questioned about their origins, the auction seller wrote "Sorry... Have no idea... I bought them from a guy at a flea market and he bought them from a live auction here in the Bay Area."
iPod touches with a back-facing camera had been extensively rumored last fall. Photos and 3rd party case designs of the devices both suggested the existence of the units. Ultimately, however, it is believed that the feature was removed at the last minute, and tear downs of the final shipping 3rd Gen iPod touches revealed an empty space where a camera might reside.





Note that these images seem to represent last year's prototype models of the currently shipping iPod touch, and not any future model.