Early Benchmarks Show Significant Performance Gains for Core i7 MacBook Pro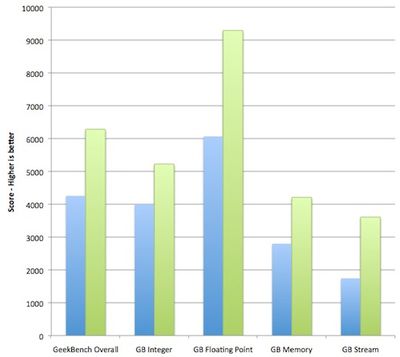 MacBook Pro Geekbench results: 2.66 GHz Core i7 (green) vs. 2.8 GHz Core 2 Duo (blue)
Gizmodo publishes
preliminary benchmarks comparing the performance of Apple's new top-of-the-line 2.66 GHz Core i7-based 15" MacBook Pro
released today
to a previous-generation 2.8 GHz Core 2 Duo model. With the caveat that the tests did not include the previous top-of-the-line 3.06 GHz model, the new MacBook Pro still seems to show impressive performance gains of nearly 50% on many tests.
The preliminary testing utilized two standard benchmarking utilities, Geekbench and Xbench, as well as a test of video re-encoding with 64-bit Handbrake. The Geekbench and Xbench results showed about 50% improvement over the previous-generation model in overall scoring, although the individual Xbench scores varied fairly significantly from only marginally better in Quartz and CPU tests to over twice as high in Thread and OpenGL tasks.

MacBook Pro Xbench results: 2.66 GHz Core i7 (purple) vs. 2.8 GHz Core 2 Duo (blue)
Handbrake re-encoding speed also increased by about 35-40% in
Gizmodo
's testing with a 600 MB file, dropping from 32:19 to 19:54.
The performance gains come despite increased battery life in the new models, a result of more energy efficient components and a slight bump in battery capacity for the latest models. Apple's automatic graphics switching will enable seamless shifting between discrete and integrated graphics processors, allowing for maximum horsepower for tasks such as the benchmarks used above and maximum battery life for less power-hungry tasks.