iBookstore to Include 30,000 Free eBooks From Project Gutenberg?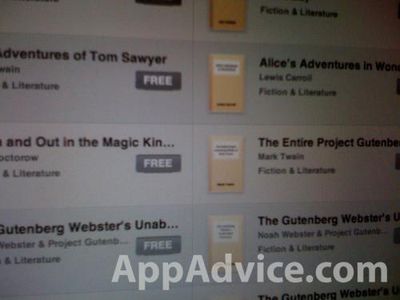 Following up on
yesterday's report
regarding $9.99 price points for most best sellers in Apple's iBookstore,
App Advice
now
reports
that it has observed a significant number of free titles from
Project Gutenberg
included directly in the store.
If you're not familiar with the Gutenberg Project, it's a free online digital library supported by volunteers. This library already includes over 30,000 free eBooks from the public domain; it is an amazing popular resource.
Well, when checking out Apple's iBookstore, I noticed that Apple has decided to include these directly. I obviously haven't had the chance to count them, but it appears that the entire catalog is available for free download.
Apple's iBooks feature page posted earlier this month confirmed that the iPad's iBooks application will support the open ePub standard used by Project Gutenberg, so its contents' compatibility with the iPad is not unexpected. Integration of Project Gutenberg content directly into the iBookstore for free download, however, is undoubtedly welcome news for many readers.
iBooks and the iBookstore are scheduled to launch in the U.S. alongside the iPad on April 3rd.