Apple Set to Match Amazon's $9.99 Price Point for eBook Best Sellers?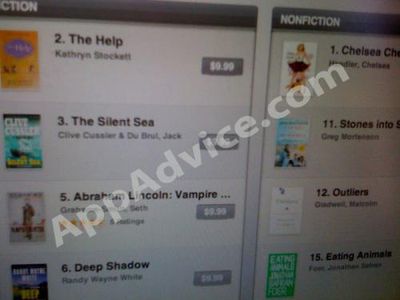 App Advice reports
that earlier this week it had an opportunity to view Apple's forthcoming iBookstore and saw that the vast majority of titles from
The New York Times
' best sellers list currently appear priced at the same $9.99 price point favored by Amazon's Kindle Store.
Anyway, at the moment, out of the 32 eBooks featured in the New York Time's Bestsellers section, 27, including the entire top 10 are priced at $9.99.
Of the remaining five titles from the best sellers list, the highest price listed is $12.99.
Apple's iBookstore pricing model, based on that used in its App Store, involves publishers setting sales prices with Apple taking a 30% cut of revenue. That model had been thought to be pushing most best seller eBook titles to a range of $12.99 to $14.99, above the $9.99 price point seen with Amazon's offerings. But a subsequent report suggested that the higher price range is merely a ceiling and that publishers will be permitted and even encouraged to offer lower price points such as those apparently being seen in the iBookstore.
The iBookstore is set to launch in the U.S. alongside the iPad on April 3rd.