Advertisers Gearing Up for iPad Editions of Magazines While Content Pricing Firms Up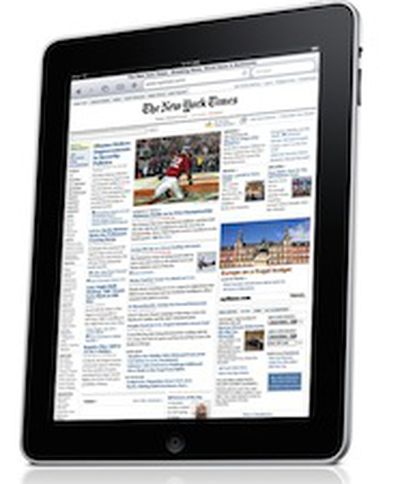 The Wall Street Journal reports that advertisers are gearing up for next week's launch of the iPad in the U.S. by committing to spots in iPad-formatted content from magazines and newspapers. At the same time, pricing for the magazines and some newspapers are being firmed up.
Time magazine has signed up Unilever, Toyota Motor, Fidelity Investments and at least three others for marketing agreements priced at about $200,000 apiece for a single ad spot in each of the first eight issues of the magazine's iPad edition, according to people familiar with the matter.
At Cond Nast Publications, Wired magazine is offering different levels of ad functionality depending on how many pages of ads a marketer buys, according to a person familiar with the matter. Advertisers that agree to buy eight pages of ads in a single issue of Wired magazine will be able to lace video and other extra features through the iPad version, say people familiar with the matter.
According to the report, while most magazines are looking at offering iPad content very similar in appearance to print editions for the time being, they are embracing more advanced media such as videos and social networking integration for their advertising spots in an attempt to lure marketing dollars. As an example, Sports Illustrated has been pitching several media-heavy ad prototypes, including one involving a Ford Mustang in a mini "arcade-style driving game" that can be steered by tilting the iPad.
When it comes to pricing for magazine content on the iPad, publishers are taking a variety of routes to incorporate advertising revenue and consumer pricing into the mix. Men's Health is reportedly offering ten free pages each from its April and May issues through an advertising partnership with Gillette, but those looking to download the full issues will have to cough up the full $4.99 newsstand price. Esquire is apparently planning to forgo advertising in its iPad versions at first and will charge $2.99 per issue, a $2 discount from the newsstand price.
In the report's final paragraph, the WSJ looks at its own situation, noting that six advertisers including Coca-Cola and FedEx have signed on for four-month ad packages with the publication costing $400,000. And in what is seemingly an afterthought, the report notes that The Wall Street Journal is apparently planning to charge readers $17.99 per month for access to the newspaper's content on the iPad.
Last month, it was reported that The New York Times' print and digital units were jockeying for control over iPad content, with the former seeking monthly subscription fees in the $20-$30 range while the latter was pushing for a $10 price point. It remains unclear what route that newspaper will be taking when its content launches on the iPad.